Pakula Fish Print Series Introduction
The Fish Print Range has been Peter Pakula's dream since he had made skirts with a Sydney Game Fishing Club logo on a lure presented to the club team fishing the HIBT in 1986. Some 34 years later in early 2020 the technology became available to launch his dream range commercially, so that we can now present it to you.
The dream grew into other technologies such as 3D printing to a point where another dream has been realised: A Lumo Blue, Air Keeled, Dual Leader Tubes Lure Head with Venturi Jets. Peter explains the technology in the video below.
The third part of this dream is teaser strips that match the fish prints available in single and triple strips, spreader bars and dredge bars.
The Fish Print Range results in a comprehensive selection of bait species that, at it's most effective is a set of lures and teasers, all in the same print mimicking a school of bait fish such as Slimy Mackerel, Rebait or Garfish with lone trailing lures resembling weaker bait tailing the school, but with a hook in them. Or a school of small baitfish like Tinker (Slimy), Mackerel, Redbait or Ballyhoo being harried by larger baitfish such as Skipjack or Small Yellowfin which are irresistible jellybeans for larger Marlin and other predators.
Fish Print Skirt Species
The fish prints on skirts are in the sizes relative to species for example Pilchards are only available in size 25 (8.5") lures, Slimy (Tinker) Mackerel are in many sizes so are available in sizes 25 (8.5") up to size 40 (14")
The Fish Print Skirts have UV2, Lumo Glow Blue, Fluro and CAT Additives
Fish Print 3D Printed Jet Lures
3D Printed in ABS that have Lumo Blue heads that are Air Keeled, have Dual Leader Tubes and Venturi Jets that have been specifically designed to maximise the 3D print skirts effectiveness.
Fish Print 3D Pearl Paua Jet Fish Print Lures
Paua Lead Keeled Jet with Orange Fluro face, Pearl White Insert available in sizes 25 to 60 in all available Paua Jet models
Fish Print Flash Strips
Matching prints in both single and triple strips in Slimy (Tinker) Mackerel, Redbait and Garfish (Ballyhoo) for use on Spreader Bars, Dredges and Witchdoctor Tow Ropes.
Fish Print Spreader Bars
Spreader Bars are available in combinations of single and triple Fish Print Strips in sizes 12, 24 and 36 inch.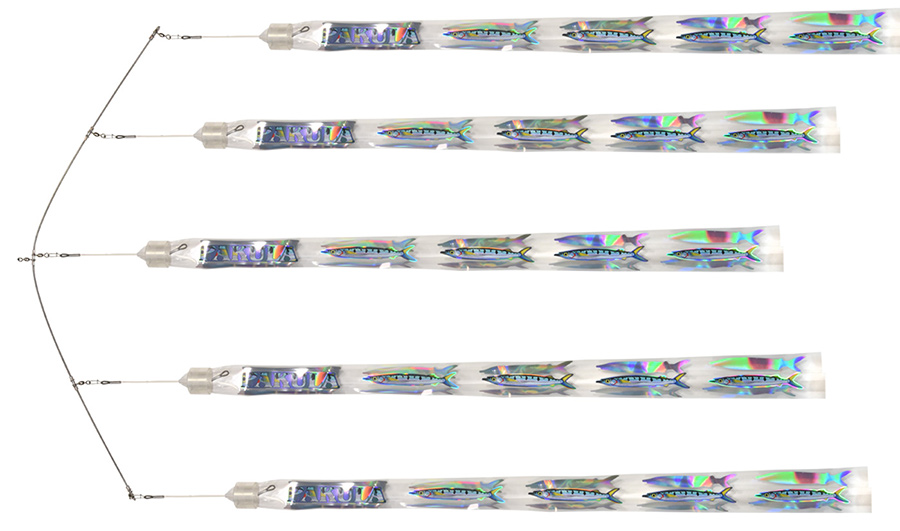 Fish Print Dredge Bars
Dredge Bars are available in combinations of single and triple Fish Print Strips in sizes 12, 24 and 36 inch.