Pakula HotHead Crystal Flash Skirted Lure Colours
Available on Micro Uzi, Uzi, Fluzi, Mosquito, Zipper, Cockroach, Phantom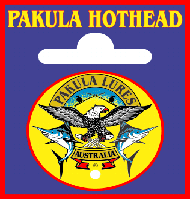 The Micro, Extra Small and Small Pakula Lures sporting the Crystal skirts have become legends faster than any other Pakula Lure we have ever made.
The Combinations of additives in what appears to be a simple clear skirt are fully realised when the lures are put in the water.
You'll be amazed in just how bright these Crystals are in the water along with life like action.They have been outstanding for large Marlin, Sailfish, B

To increase the life of the tinsel skirts, Crystals should be rigged with a single hook with the hook eye just inside the lure skirt.luefin and Yellowfin Tuna when thaey have been difficult to catch because they are feeding on tiny sized bait.

Crystal ClearTM Code:CR Clear UV over Clear Flash

Crystal TurqTM Code:TR Clear UV overTurquoise Flash

Crystal ChartTM Code:CH Clear UV over Chartreuse Flash

CrystalSunsetTM Code:SU Clear UV over Orange Flash