Pakula additives leading the world
It was Peter Pakula who introduced the world to Lumo®, which is
s registered trademark of Pakula Tackle, and was also the first to realise the importance of UV - Ultra Violet additives.
Over the last few years he also introduced an additive called UVAten®
We are now combining several of these additives in our skirts.
All of these additives combined will now be called Multitech™ shortened to the initials MT™.
As we order new skirts we will be introducing MT into them which will result in tonal changes such as lighter fluorescent colours to allow the MT's to shine through.
In 2017 we added a new additive which we are saying very little about but the incredible results of colours like Brad J which is giving Lumo Green a run for supremicy tells us and you that we are certainly on the right track.
What the additive names mean
Legacy colours no longer in production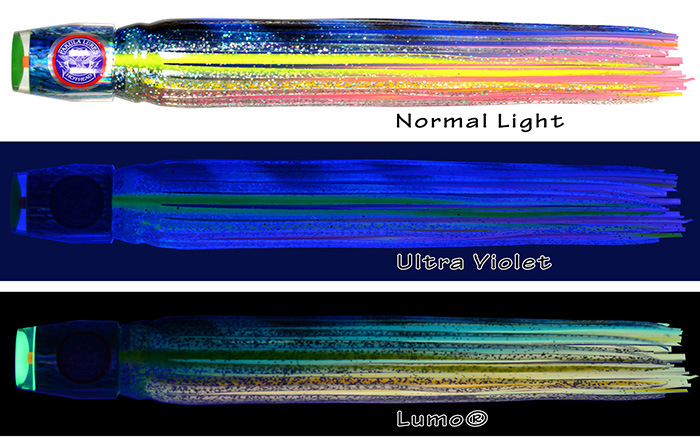 Head Colour: Paua - Blue/Green Original - Blue
Outer Skirt: EA - Evil Angel


Inner Skirt: OPL - Lumo Orange / Lumo Pink

Best Positions: Long Corner - Shotgun
Lure Heads: Long Shots (Phantom shape) - Sprockets - Chatterboxes

Head Colour: Paua - Violet Original - Violet
Outer Skirt: LW - Lumo White


Inner Skirt: PW - Pink / White

Best Positions: Shotgun
Lure Heads: Long Shots (Phantom shape)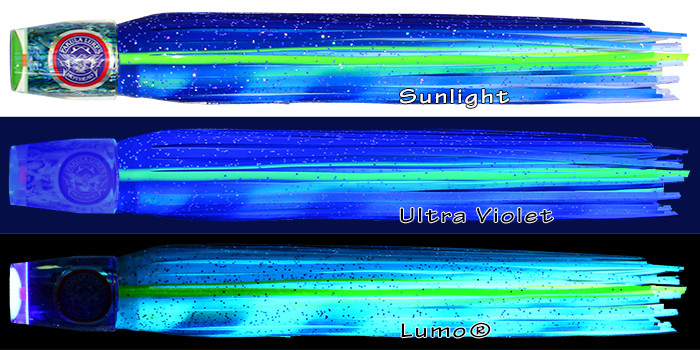 Head Colour: Paua - Blue/Green Original - Blue
Outer Skirt: NCL - Navy Chevron Lumo

Inner Skirt: BWL - Blue Lumo / White Lumo

Best Positions: Long Corner - Shotgun
Lure Heads: Long Shots (Phantom shape) - Sprockets - Chatterboxes

Head Colour: Paua - Blue / Green Original - Blue
Outer Skirt: BA - Blue Angel


Inner Skirt: PWL - Lumo Pink / Lumo White


Best Positions: Long Corner - Shotgun
Lure Heads: Long Shots (Phantom shape) - Sprockets

Head Colour: Paua - Black Original - Black
Outer Skirt: BB - Black Betty

Inner Skirt: VGL - Violet Glitter Lumo


Best Positions: Short Corner
Lure Heads: Short Shots (Rat shape) - Short Chuggers (Pacemaker shape) - Chatterboxes

Head Colour: Paua - Silver Original - Blue
Outer Skirt: BC - Blue Crystal UV2


Inner Skirt: CC - Clear Crystal UV2


Best Positions: Long Corner - Shotgun
Lure Heads: Long Shots (Phantom shape) - Sprockets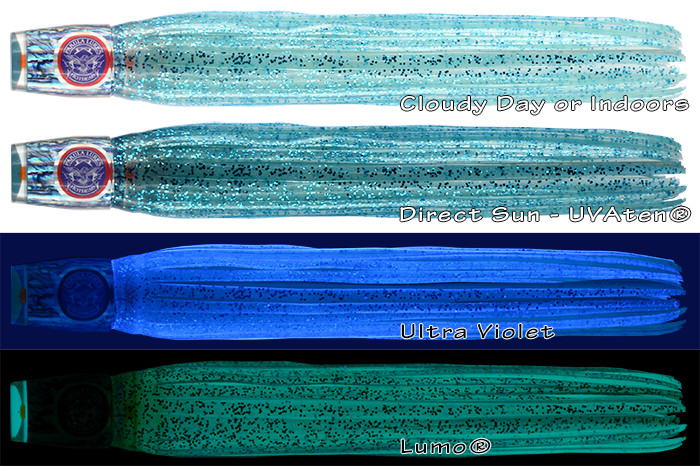 Head Colour: Paua - Silver Original - Blue
Outer Skirt: BC - Blue Crystal UV2


Inner Skirt: BCL - Blue Crystal MT


Best Positions: Long Corner - Shotgun
Lure Heads: Long Shots (Phantom shape) - Sprockets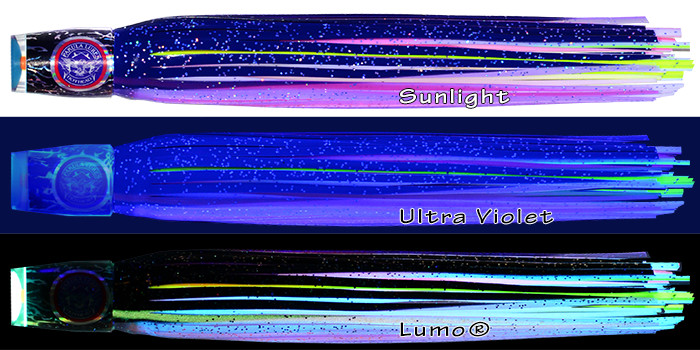 Head Colour: Paua - Black Original - Black
Outer Skirt: BI - Billy B


Inner Skirt: BPL - Lumo Blue / Lumo Pink


Best Positions: Short Corner
Lure Heads: Short Shots (Rat shape) - Short Chuggers (Pacemaker Shape) - Chatterboxes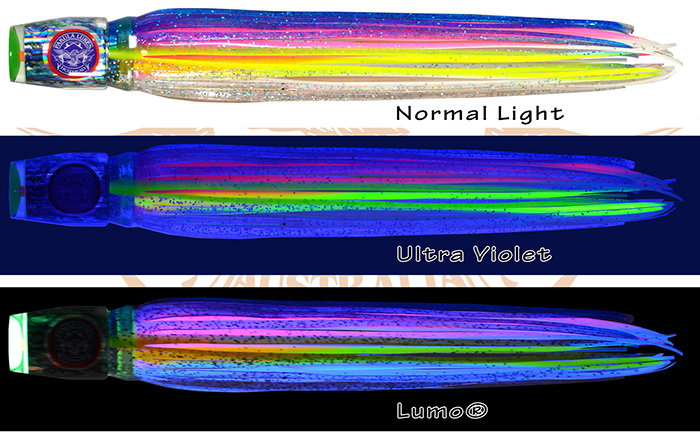 Head Colour: Paua - Blue / Green Original - Blue
Outer Skirt: BA - Blue Angel


Inner Skirt: PWL - Lumo Pink / Lumo White


Best Positions: Long Corner - Shotgun
Lure Heads: Long Shots (Phantom shape) - Sprockets

Head Colour: Paua - Violet Original - Violet
Outer Skirt: BK - Blue Kona


Inner Skirt: VGL - Violet Glitter Lumo


Best Positions: Short Rigger
Lure Heads: Short Shots (Rat shape) - Short Chuggers (Pacemaker shape) - Chatterboxes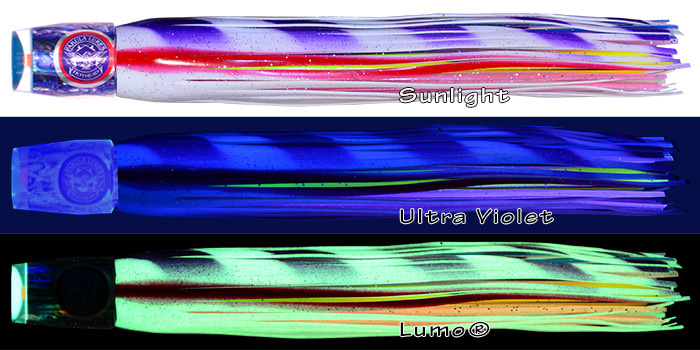 Head Colour: Paua - Violet Original - Violet
Outer Skirt: WL - White Lumo


Inner Skirt: BPL - Blue Lumo / Pink Lumo


Best Positions: Shotgun
Lure Heads: Long Shots (Phantom shape) - Sprockets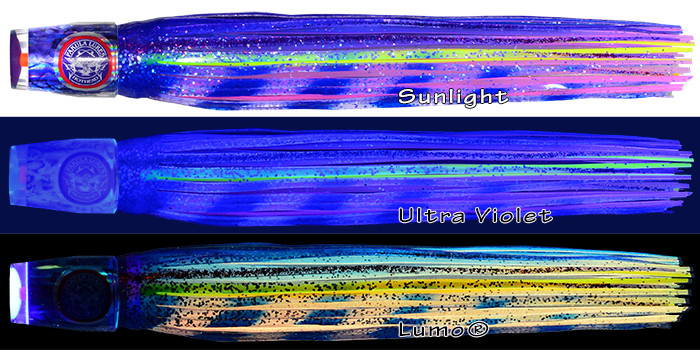 Head Colour: Paua - Violet Original - Violet
Outer Skirt: BK - Blue Kona


Inner Skirt: BPL - Blue Lumo / Pink Lumo


Best Positions: Short Rigger
Lure Heads: Short Shots (Rat shape) - Short Chuggers (Pacemaker shape) - Chatterboxes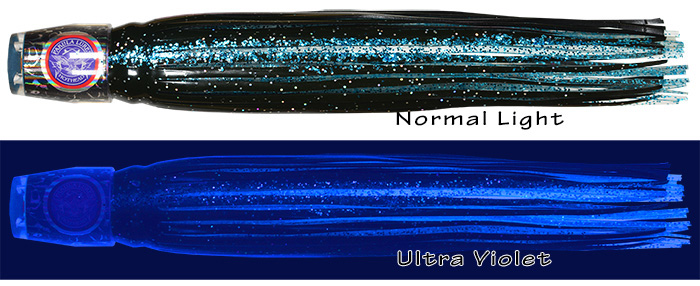 Head Colour: Paua - Black Original - Black
Outer Skirt: BB - Black Betty


Inner Skirt: BC - Blue Crystal


Best Positions: Short Corner
Lure Heads: Short Shots (Rat shape) - Short Chuggers (Pacemaker shape) - Chatterboxes
Brad J

TM Lumo® Taking on Lumo Green as the best Pakula Colour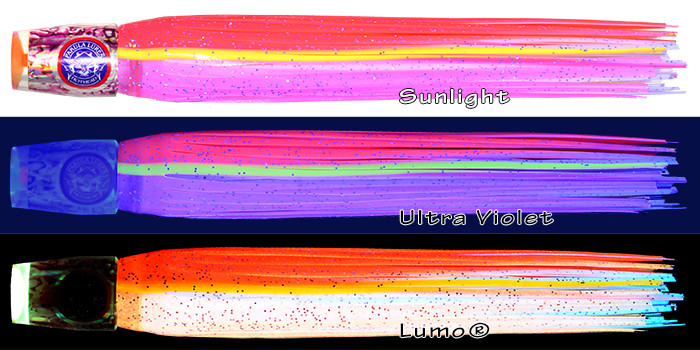 Head Colour: Paua - Pink Original - Pink
Inner Skirt: OPL - Lumo Orange / Lumo Pink


Inner Skirt: PWL - Pink Lumo / White Lumo


Best Positions: All Positions
Lure Heads: All head shapes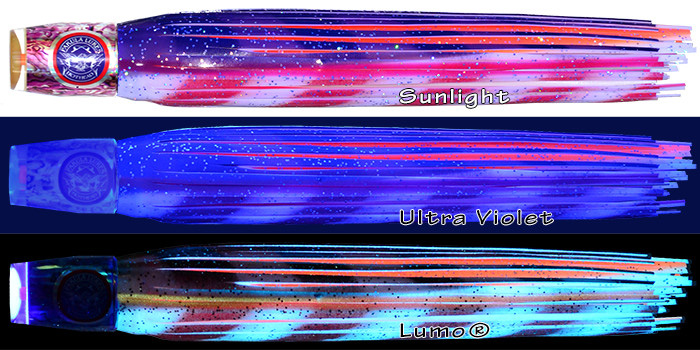 Head Colour: Paua - Pink Original - Pink
Outer Skirt: TCL - Taiko Striped


Inner Skirt: OWL - Orange Lumo / White Lumo


Best Positions: Shotgun
Lure Heads: Long Shots (Phantom Shape)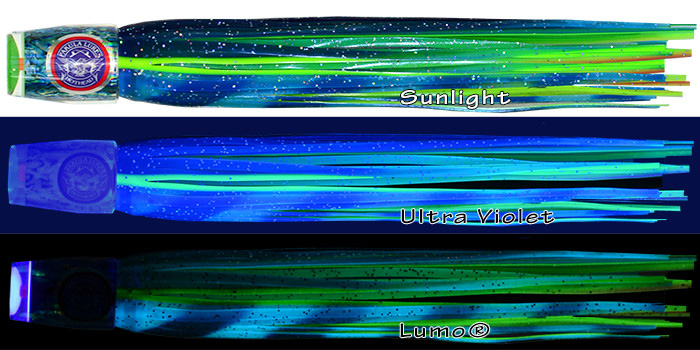 Head Colour: Paua - Blue / Green Original - Blue
Outer Skirt: NCL - Navy Chevron Lumo


Inner Skirt: GRL - Lumo Green / Lumo Chartreuse


Best Positions: Long Corner - Shotgun
Lure Heads: Long Shots (Phantom shape) - Sprockets

Head Colour: Paua - Silver Original - Clear
Outer Skirt: CC - Clear Crystal UV2


Inner Skirt: CC - Clear Crystal UV2


Best Positions: Shotgun
Lure Heads: Long Shots (Phantom shape)

Head Colour: Paua - Blue / Green Original - Blue
Outer Skirt: EA - Evil Angel


Inner Skirt: GG - Green / Gold Glitter


Best Positions: Long Corner - Shotgun
Lure Heads: Long Shots (Phantom shape) - Sprockets

Head Colour: Paua - Blue / Green Original - Blue
Outer Skirt: SH - Slash


Inner Skirt: MP - Magenta / Pink


Best Positions: Long Corner - Shotgun
Lure Heads: Long Shots (Phantom shape) - Sprockets

Head Colour: Paua - Black Original - Black
Outer Skirt: FG - Frigate


Inner Skirt: VGL - Violet Glitter Lumo


Best Positions: Short Corner
Lure Heads: Short Shots (Rat shape) - Short Chuggers (Pacemaker shape) - Chatterboxes

Head Colour: Paua - Black Original - Black
Outer Skirt: FU - Fuzz


Inner Skirt: VGL - Violet Glitter Lumo


Best Positions: Short Rigger
Lure Heads: Short Shots (Rat shape) - Short Chuggers (Pacemaker shape) - Chatterboxes
Gold Yakka® Only available in sizes 15 and 25

Head Colour: Paua - Black Original - Black
Outer Skirt: GY - Gold Yakka


Inner Skirt: PO - Orange / Pink


Best Positions: Short Rigger - Shotgun
Lure Heads: Short Shots (Rat shape) - Short Chuggers (Pacemaker shape) - Chatterboxes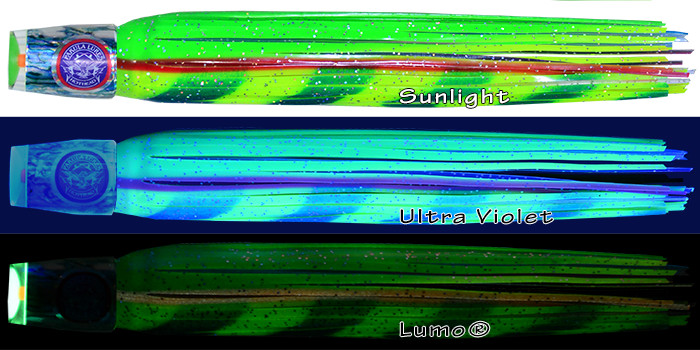 Head Colour: Paua - Blue / Green Original - Blue
Outer Skirt: GRL - Green Lumo / Chartreuse Lumo Chevron


Inner Skirt: BCL - Lumo Blue / Lumo Chartreuse


Best Positions: Long Rigger - Shotgun
Lure Heads: Long Shots (Phantom shape) - Sprockets

Head Colour: Paua - Black Original - Black
Outer Skirt: FG - Frigate


Inner Skirt: BP - Blue / Pink


Best Positions: Short Corner
Lure Heads: Short Shots (Rat shape) - Short Chuggers (Pacemaker shape) - Chatterboxes

Head Colour: Paua -Pink Original - Pink
Outer Skirt: IC - Ice Cream


Inner Skirt: OP - Ornage / Pink


Best Positions: Shotgun
Lure Heads: Long Shots (Phantom shape) - Sprockets

Head Colour: Paua -Pink Original - Pink
Outer Skirt: IC - Ice Cream


Inner Skirt: GRL - Green Lumo / Chrtreuse Lumo

Best Positions: Shotgun
Lure Heads: Long Shots (Phantom shape) - Sprockets

Head Colour: Paua - Blue / Green Original - Blue
Outer Skirt: IU - Illusion (Lumo Blue Glows Green)


Inner Skirt: GU - Illusion Under (Lumo Green Glows Blue)


Best Positions: Long Rigger - Shotgun
Lure Heads: Long Shots (Phantom shape) - Sprockets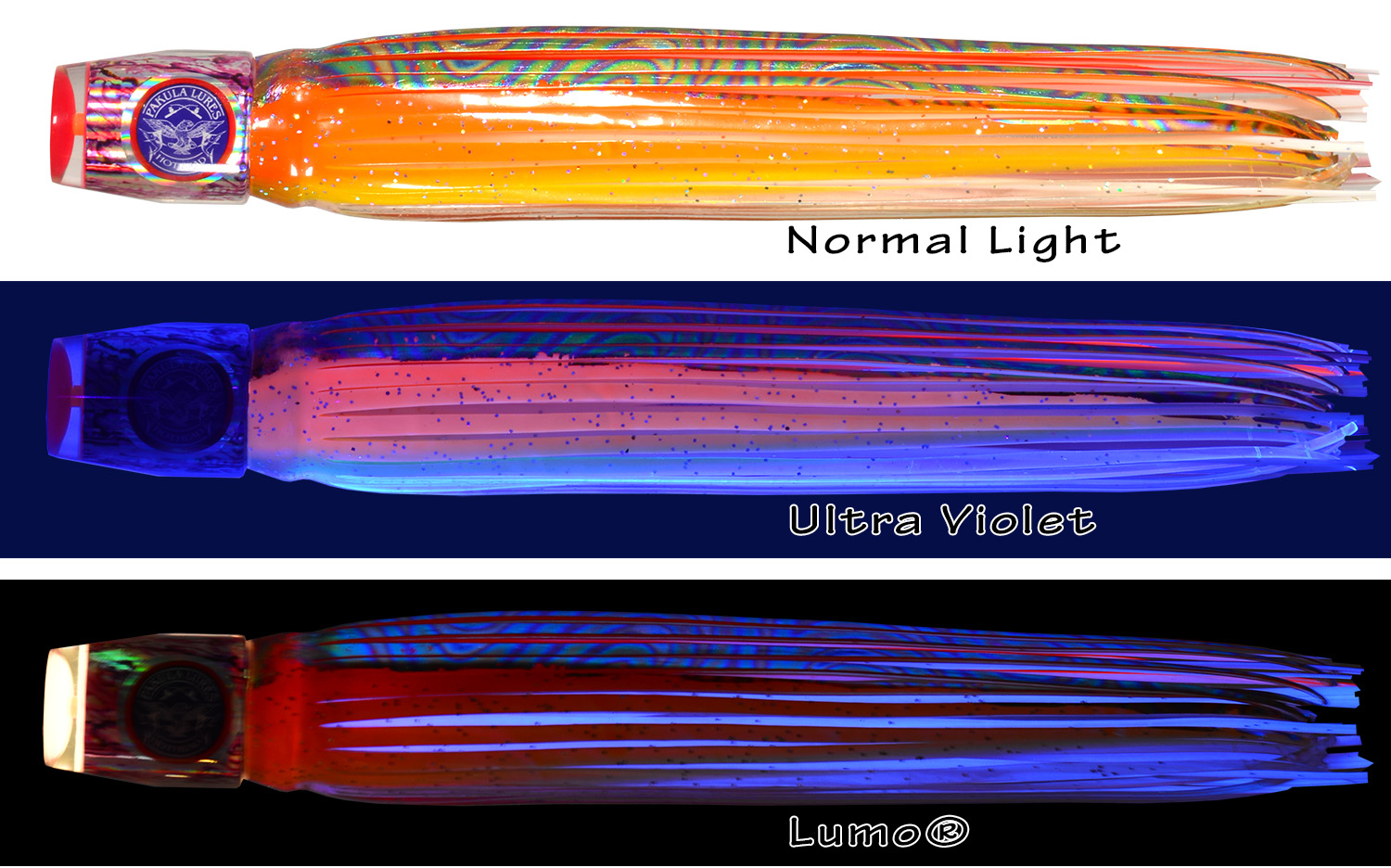 Head Colour: Paua - Pink Original - Pink
Outer Skirt: KA - Kajiki


Inner Skirt: OW - Orange Lumo / White Lumo


Best Positions: Shotgun
Lure Heads: Long Shots (Phantom shape)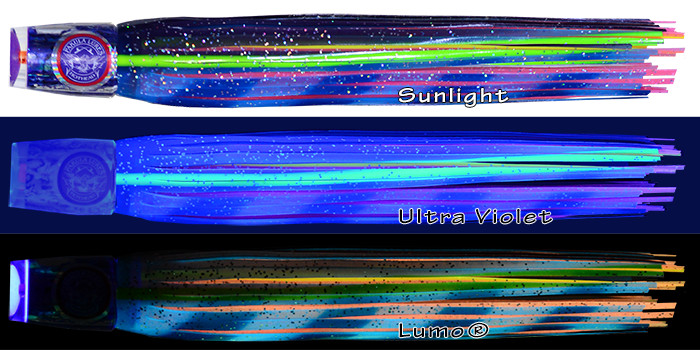 Head Colour: Paua - Blue / Green or Violet Original - Blue or Violet
Outer Skirt: NCL - Navy Chevron Lumo


Inner Skirt: BPL - Blue Lumo / Pink Lumo


Best Positions: Long Corner - Shotgun
Lure Heads: Long Shots (Phantom shape) - Sprockets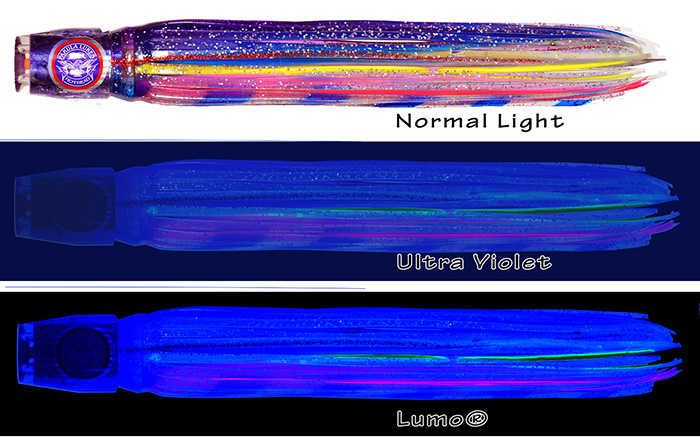 Head Colour: Paua - Violet Original - Violet
Outer Skirt: BK - Blue Kona


Inner Skirt: BP - Blue / Pink

Best Positions: Short Rigger
Lure Heads: Short Shots (Rat shape) - Short Chuggers (Pacemaker shape) - Chatterboxes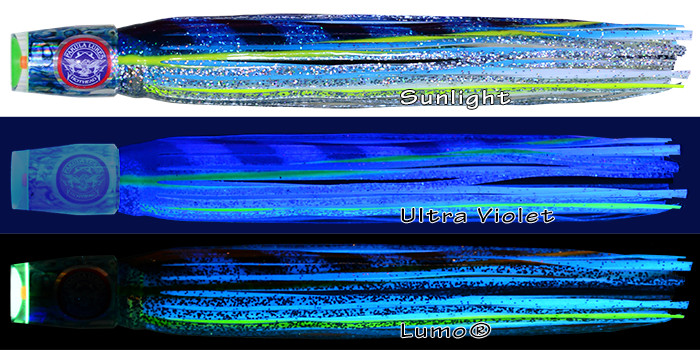 Head Colour: Paua - Blue / Green Original - Blue
Outer Skirt: EA - Evil Angel


Inner Skirt: BCL - Lumo Blue / Lumo White

Best Positions: Long Corner - Shotgun
Lure Heads: Long Shots (Phantom shape) - Sprockets

Head Colour: Paua - Pink Original - Pink
Outer Skirt: TS - Tea Squid


Inner Skirt: PW - Pink White


Best Positions: Long Rigger - Shotgun
Lure Heads: Long Shots (Phantom shape) - Sprockets

Head Colour: Paua - Blue / Green Original - Green
Outer Skirt: LU - Lumo Green


Inner Skirt: GRL - Green Lumo / Chrtreuse Lumo

Best Positions: Long Rigger - Shotgun
Lure Heads: Long Shots (Phantom shape) - Sprockets

Head Colour: Paua - Blue / Green Original - Green
Outer Skirt: LUAT - Lumo Green UVAten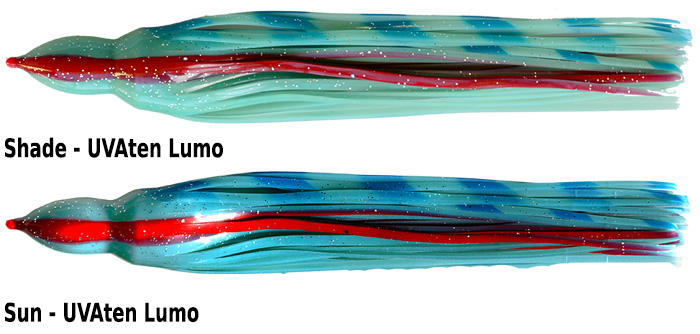 Inner Skirt: GRL - Green Lumo / Chrtreuse Lumo

Best Positions: Long Rigger - Shotgun
Lure Heads: Long Shots (Phantom shape) - Sprockets

Head Colour: Paua - Violet Original - Violet
Outer Skirt: LW - White Lumo

Inner Skirt: VGL - Violet Glitter Lumo

Best Positions: Shotgun
Lure Heads: Long Shots (Phantom shape) - Sprockets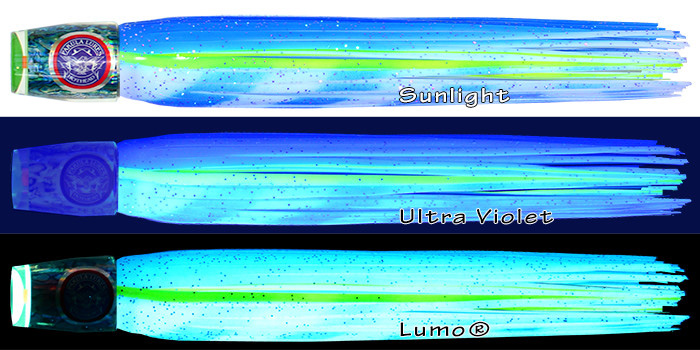 Head Colour: Paua - Blue / Green Original - Blue
Outer Skirt: MB - Magnet Blue Chev Lumo

Inner Skirt: BWL - Blue Lumo / White Lumo

Best Positions: Shotgun
Lure Heads: Long Shots (Phantom shape) - Sprockets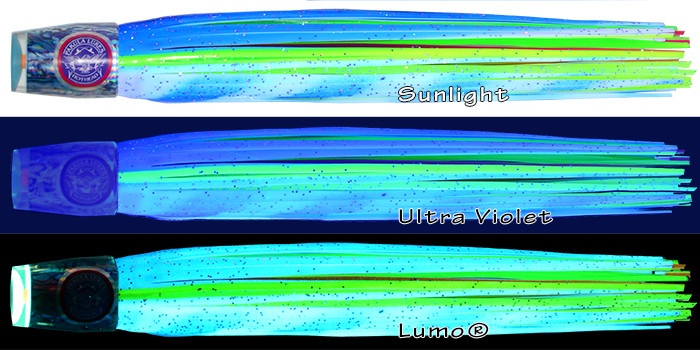 Head Colour: Paua - Blue / Green Original - Blue
Outer Skirt: MB - Magnet Blue Chev Lumo

Inner Skirt: GCL - Green Lumo / Chartreuse Lumo

Best Positions: Shotgun
Lure Heads: Long Shots (Phantom shape) - Sprockets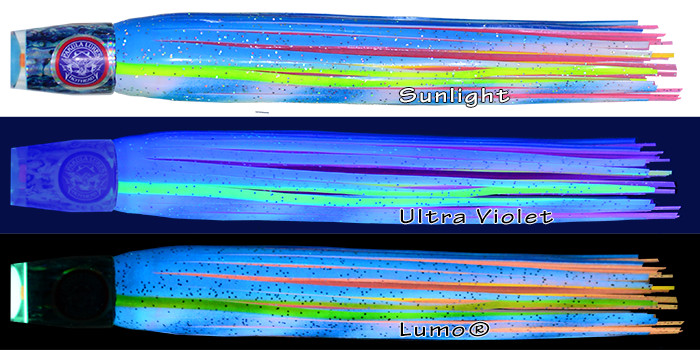 Head Colour: Paua - Silver Original - Blue
Outer Skirt: MB - Magnet Blue Chev Lumo

Inner Skirt: PL - Pink Lumo
Best Positions: Shotgun
Lure Heads: Long Shots (Phantom shape) - Sprockets

Head Colour: Paua - Black Original - Black
Outer Skirt: PT - Petrolio

Inner Skirt: OP - Orange / Pink

Best Positions: Short Corner
Lure Heads: Short Shots (Rat shape) - Short Chuggers (Pacemaker shape) - Chatterboxes

Head Colour: Paua - Pink Original - Pink
Outer Skirt: PI - Pink

Inner Skirt: PW - Pink / White

Best Positions: Shotgun
Lure Heads: Long Shots (Phantom shape) - Sprockets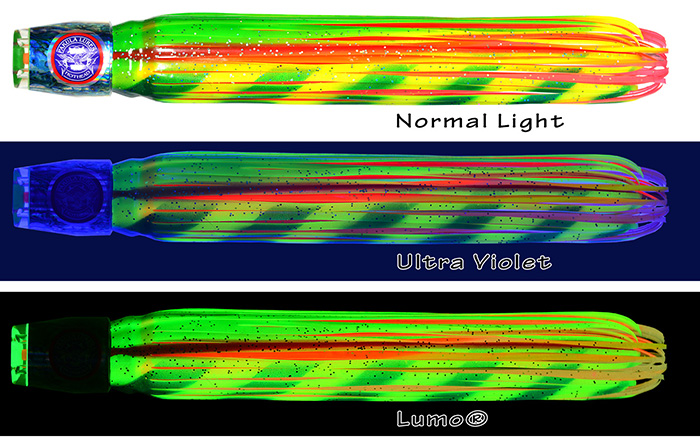 Head Colour: Paua - Green / Blue Original - Green
Outer Skirt: GHL - Grasshopper Lumo

Inner Skirt: OPL - Orange Lumo / Pink Lumo

Best Positions: Long Rigger - Shotgun
Lure Heads: Long Shots (Phantom shape) - Sprockets

Head Colour: Paua - Pink Original - Pink
Outer Skirt: SC - Screamer

Inner Skirt: PI - Pink

Best Positions: All positions
Lure Heads: All lure heads
Head Colour: Paua - Blue / Green Original - Blue
Outer Skirt: SL - Slash

Inner Skirt: VGL - Violet Glitter Lumo

Best Positions: Long Rigger - Shotgun
Lure Heads: Long Shots (Phantom shape) - Sprockets

Head Colour: Paua - Black Original - Black
Outer Skirt: SI - Stinger

Inner Skirt: VGL - Violet Glitter Lumo

Best Positions: Short Corner
Lure Heads: Short Shots (Rat shape) - Short Chuggers (Pacemaker shape) - Chatterboxes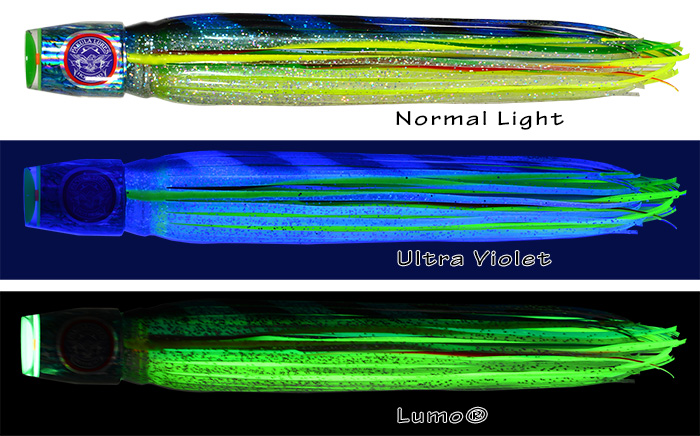 Head Colour: Paua - Green / Blue Original - Gree
Outer Skirt: EA - Evil Angel

nner Skirt: GCL - Green Lumo / Chartreuse Lumo

Best Positions: Long Rigger - Shotgun
Lure Heads: Long Shots (Phantom shape) - Sprockets

Head Colour: Paua - Pink Original - Pink
Outer Skirt: TS - Tea Squid

nner Skirt: PO - Orange / Pink

Best Positions: Shotgun
Lure Heads: Long Shots (Phantom shape) - Sprockets
Head Colour: Paua - Violet Original - Violet
Outer Skirt: ST - Stripey

Inner Skirt: BI - Blue Ice

Best Positions: Short Rigger
Lure Heads: Short Shots (Rat shape) - Short Chuggers (Pacemaker shape) - Chatterboxes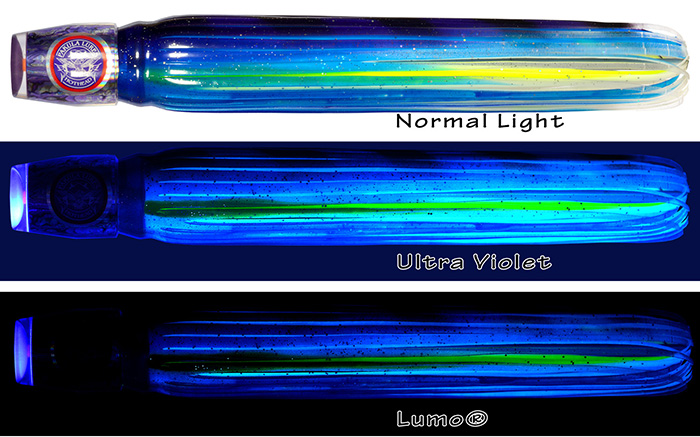 Head Colour: Paua - Violet Original - Violet
Outer Skirt: ST - Stripey

Inner Skirt: BWL - Blue Lumo / White Lumo

Best Positions: Short Rigger
Lure Heads: Short Shots (Rat shape) - Short Chuggers (Pacemaker shape) - Chatterboxes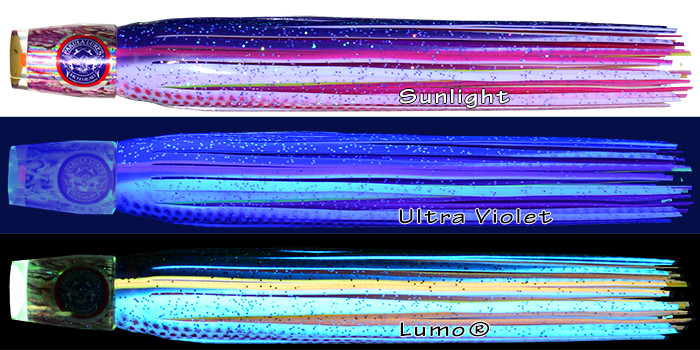 Head Colour: Paua - Pink Original - Pink
Outer Skirt: TSL - Taiko Spot Lumo

Inner Skirt: BRL - Brown Lumo / Red Lumo
(we also use Orange / White or Orange Lumo / Pink Lumo)


Best Positions: Shotgun
Lure Heads: Long Shots (Phantom shape) - Sprockets

Head Colour: Paua - Black Original - Black
Outer Skirt: TR - Torro

Inner Skirt: PO - Orange / Pink (we also use Magenta / Pink)


Best Positions: Short Corner
Lure Heads: Short Shots (Rat shape) - Short Chuggers (Pacemaker shape) - Chatterboxes
Head Colour: Paua - Pink Original - Pink
Outer Skirt: TSL - Taiko Striped Lumo

Inner Skirt: BRL - Brown Lumo / Red Lumo (we also use Orange / White or Orange Lumo / Pink Lumo)


Best Positions: ShotgunLure Heads: Long Shots (Phantom shape) - Sprockets

Head Colour: Paua - Violet Original - Violet
Outer Skirt: VT - Violeta

Inner Skirt: BI - Blue Ice

Best Positions: Short Rigger
Lure Heads: Short Shots (Rat shape) - Short Chuggers (Pacemaker shape) - Chatterboxes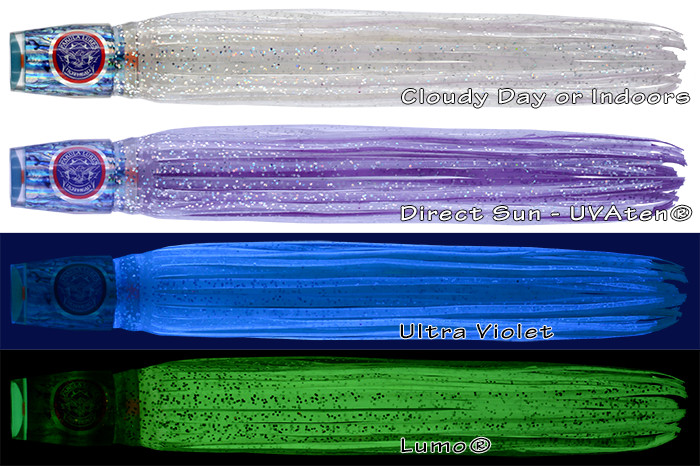 Head Colour: Paua - Silver Original - Clear
Outer Skirt: CC - Clear Crystal UV2

Inner Skirt: WCA - White Crystal MT


Best Positions: Shotgun
Lure Heads: Long Shots (Phantom shape) - Sprockets

Head Colour: Paua - Black Original - Black
Outer Skirt: YAN - Yakka New

Inner Skirt: VGL - Violet Glitter Lumo

Best Positions: Short Corner
Lure Heads: Short Shots (Rat shape) - Short Chuggers (Pacemaker shape) - Chatterboxes
Head Colour: Paua - Black Original - Black
Outer Skirt: YAO - Yakka Old

Inner Skirt: VGL - Violet Glitter Lumo

Best Positions: Short Corner
Lure Heads: Short Shots (Rat shape) - Short Chuggers (Pacemaker shape) - Chatterboxes

Head Colour: Paua - Green / Blue Original - Green Outer Skirt: LU - Lumo

Inner Skirt: PW - Pink White

Best Positions: Long Rigger - Shotgun
Lure Heads: Long Shots (Phantom shape) - Sprockets