Pakula Stainless Deckies Pliers
Pakula Stainless Deckies Pliers are made from surgical stainless steel by a surgical instrument factory.
- The cutters are hardened to easily cut through wire up to 2mm stainless cable.
- They are spring loaded with springs in each handle.
- Extra Length Handles to give extra power and grip.
- Fine serrated jaws to securely hold on to the smallest items.
- Handles have dulled ports to maximise grip even with wet slippery hands.
- Includes Hand sewn embossed leather pouch.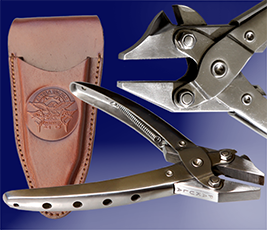 Maintenance
Wash pliers after a days use and ensure pliers and pouch are dry before returning the pliers into the pouch. Oil the Pliers and leather periodically to ensure the pliers last a very long time.