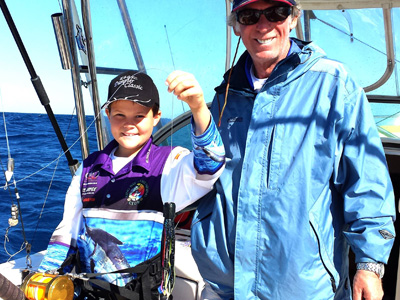 I had the pleasure of crewing for two days in the Dampier Classic aboard Reckless skippered by the owner Ryan Bryce with a junior team of young Darcy and his little brother.
The first day was the first time they used 8 kg resulting in the usual donation of lures, mostly the new 3D Shredders and rigs to the sea gods for all the usual calamities associated with getting used to lighter line classes, but out of 8 Bryce did score the last one, a tag and released Black on 8kg!!! Darcy never lost the plot and remained calm even in defeat even after long gruelling fights. Ryan and Kerry certainly know how to raise kids!!
Day 2 Darcy scored 3-3-3 on 15kg, one to a Lumo Softease Cockroach, one to a Fallen Angel Small Shredder and another to a Hot Black Betty Small Shredder.
I really appreciate being allowed to try unproven lures during a tourney. Thanks Team Reckless. The boys will certainly be a future force to reckon with!! Well they are now!!!