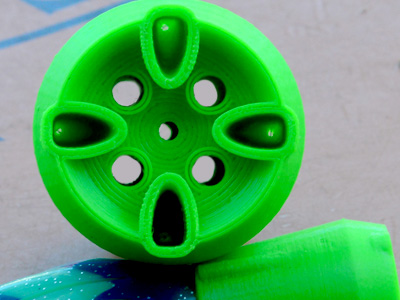 This the 3D printed Shredder prototype released to the market
In discussions with Kyle Peet when the Bahamas there seemed to a need for slow speed lures to use with Dredges.
The Shredder is a large cup face with 4 venturi jets and 4 large normal full length jetsussions with Kyle Peet when the Bahamas there seemed to a need for slow speed lures to use with Dredges.
The Lure head is a complete air chamber give it maximum buoyancy and action.
Hopefully it explodes when a big blue takes it deep.
Test runs will be done shortly with first ones going to Kyle Peet .
Head shape based on the first lure we ever produced for the market, the Long Chugger which became known in later 1990's
as the Chatterbox.
---
Ben Colvin <https://www.facebook.com/ben.colvin.902?fref=ufi> Helped run these pro types this morning. Worked as slow as 4 knts with a regular breath and a noticeable smoke trail and wiggle, at 19 knts they where still hanging in and actually working. At 6 to 7 knts they are unreal, love the fact even with twin hooks in them they float and would be unreal as a teaser lure for fly or switch baiting as they stay up on top when in neutral where you could see what was happening. Well done Peter Pakula <https://www.facebook.com/peter.pakula>, it's no wonder you have been at the for front of lure design for so many years. Can't wait to try them up north this season.
---
Peter Pakula I was very happy on the test run. It's great to design a head with parameters in mind and fantastic to see it do much more than expected.
Just add to Ben's comments and thank you for doing the test runs -
- It works like a normal lure but at slower and higher speeds than most.
- After todays test they are in production.
- Yes it was / is made on a 3D printer, but with some modifications to the printer and material, and I believe, tell me if I'm wrong, be the first trolling head to go into production with this production system.
- at 18 or 19knots it pulled less than 5kg of drag which opens it up to a whole bunch of other techniques.
- It pops out well as a fly fishing teaser.
- It survived being bounced around at 35 knots which was a pleasant surprise.
- We'll stick with hard heads until the Softease type material can be tested for a longer period.